Software Solutions
Total Barcodes can offer a range of different software solutions to meet the requirements of your business.
All of our solutions are bespoke, to fit around the requirements that you have. This means that you are going to get a software solution that is 100% your own, and not something off the shelf with features that you are paying for, but not using.
Warehouse Management System
The Total Barcodes Warehouse Management System is the most complete WMS solution that we can offer. This will give you a fully bespoke solution that revolves around the processes that you employ in your business, without having to take 'extra' modules that you don't have a requirement for. Our WMS includes the following processes:
Goods In
Put Away
Stock Movement
Goods Out
Stock Take
Send Data
Barcode Print
Windows Desktop App for Stock Management – with support & Consultation
Batch Data Transfer
Real time data base update from/to the scanner
Fully functional product and location maintenance
Products to have Best Before Date and Batch Number tracking.
Comprehensive Stock Management
Extensive Stock Enquiry
Export reports as Excel
With our software offering being bespoke, any of these features can be removed to create a completely unique solution to you. We can also add the following features to the Full WMS offering; Customer Management, Customer Order Processing, Supplier Order Processing, Supplier Management.
Warehouse Management System *Lite*
This WMS offering is completely bespoke to your own requirements. This offering is more suited to businesses who are looking to introduce WMS into their business for the first time. We are here to help with that implementation, and our WMS Lite can offer the following:
Goods In
Put Away
Stock Movement
Goods Out
Stock Take
Send Data
Barcode Print
Windows Desktop App for Stock Management – with support & Consultation
The software is flexible, so that any time you wish to add any other processes to your WMS, then we can do that as and when that becomes a requirement.
Proof of Delivery
The Total Barcodes POD software (T-POD) is a fantastic solution for businesses that are still paper based; reducing administrative tasks and paperwork whilst also boosting employee productivity.
Features include:
Drivers have access to a daily call list, assigned by the Head Office
After selection of a customer, their details are shown – including outstanding balances
Products being delivered are entered into the system together with batch number and Best Before dates (if required)
Option to enter 'Cash Collected' is also available
Customer Signature or Photograph can be taken on a mobile device/PDA
A receipt can also be printed, with the signature (requires mobile printer)
All the entered information can be sent immediately to head office, or stored on the device for transmission later.
As with all of our solutions, the software is bespoke and designed to your requirements, so if there is anything else you need from a Proof of Delivery application, please speak to our team and we will be delighted to help
Field Service
Our Field Service solution can support any company that has a field service operation.
The software ensures:
Simplified Data Collection
Fast Data Transfer
Job Allocation
Real-Time insight into field employees' activities
If you are looking to boost the efficiency of your mobile workforce, we can build a bespoke solution to meet your requirements
Windows to Android Emulation
Android migration has been a major headache for a lot of companies in the recent couple of years. With news that legacy devices using Windows as the OS would not be supported going forward, and the huge introduction of new devices all running on Android devices, it left many companies wondering how to migrate a software system that they had been using for years, over to a device that runs completely differently.
Total Barcodes can help with this migration, by taking your Telnet and browser-based applications and modernising them so that they can be deployed on any of the current range of modern devices.
Preserve Existing Systems – we can interface with your existing host and web-based applications and add mobility without making changes to your WMS/ERP extending their life
Deployment across many devices and OS's – Once modernised, your apps can be deployed across numerous devices, whether they be Android or Windows 10
Quick Turnaround – Using a Rapid Platform, we can simplify the process which means that you can start deploying your new devices quickly and avoid the lead time required for a new WMS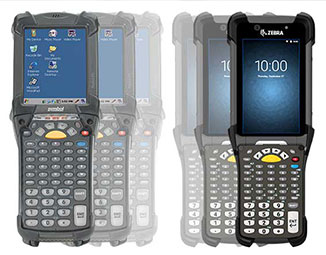 Buy Back
Earn money by selling your old hardware back to Total Barcodes Limited!
Here at Total Barcodes, we can offer a Buy Back on any new or legacy hardware equipment that either you no longer require, or wish to replace with a new hardware install, If you have any Mobile Computers, Rugged PDA's, Barcode Scanners or Label Printers that you wish to offer us, then please get in touch!
We can offer:
Fast and Professional Response
Competitive Pricing
Quick Payments
If you identify that you have hardware in your business that you either do not have a requirement for, or you are looking to replace, please get in touch. We have a large network of customers across the UK and Europe, which enables us to take around 90% of the hardware that we are offered.
We will need to know:
The hardware that you have
The number of devices/printers that you wish to offer
The condition of what you are looking to sell
Manufacturer's Part Number (we can help you to find this)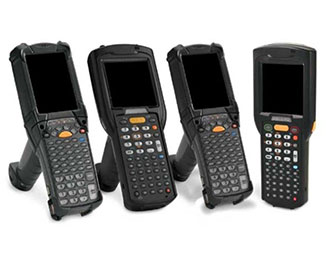 Repairs
Here at Total Barcodes, we have an extensive client base across the UK and over Europe and the one thing that they all have in common is the disruption caused by having devices or printers go down, which can result in a reduction in productivity.
We also understand the frustrations that many have experienced in the past when trying to handle repairs:
Failure to notify clients of delays and problems
Lack of ownership and accountability
Long delays as units are shipped abroad to centralised service centres
With our repair services, we have learnt from the mistakes of other repairers. We know the impact of having devices that are not working and with that in mind we focus on getting the units repaired in a timely and cost-effective manner, and you are always communicated to.
Fast Turnaround – All repairs are conducted in the UK to ensure a great turnaround time. On average, a manufacturer's turnaround time is 20 days. Total Barcodes guarantee a 5-day turnaround*
Competitive Pricing – Due to our experience and relationship with key contacts, we can offer fantastic pricing that many of our competitors cannot beat.
Dedicated Contact – From the moment that you speak to us about the repair you require, that will be your point of contact going forward, resulting in no mixed messages or miscommunication.
All Makes and Models – Total Barcodes can help to repair Barcode Scanners, Handheld Devices and Label Printers.
*based on availability of spare parts, if needed.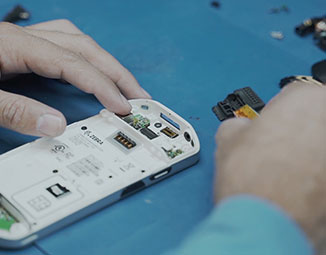 Leasing & Rentals
Leasing
The Covid-19 pandemic has created many challenges for businesses with regards to their Capex and recognising this, Total Barcodes are delighted to announce that we can offer leasing options on any hardware purchases that you are looking to make.
The benefits of leasing provide a strong case against cash purchase. Purchasing through leasing spreads your payments over a fixed period, typically three to five years, which helps to simplify the budgeting process and improve cash flow.
As your business grows and changes, we will ensure the finance you have offers flexibility you need to upgrade or acquire new equipment. At the end of the payment period, there are a few different options; you can hand the hardware back over, you can decide to keep it and pay a one-off payment, or we can refresh the hardware with the current up to date models.
There has been a huge growth in the popularity of leasing, due to the benefits it offers:
Easier to budget
Conserves cashflow
Offers flexibility to upgrade and add equipment during the term
Preserves existing credit lines
Choose the equipment you need, rather than what your Capex allows
Rentals are fully tax-deductible operating expenses
Get in touch with the team to discuss the requirements that you have, and we will be delighted to help.
Rentals
During the year, we find that our partners often have times whereby they could really utilise additional mobile computers to the ones they have in their current estates. This could be due to higher despatch rates due to seasonal increases in sales, the taking on of temporary employees or devices to be used for inventory & stock control purposes that need to be moved from another process.
To assist with these scenario's, we can offer device rentals to help you get through these periods. We have created device bundles of the most common devices, so they will come with a service contract, charging docks, protective boots as well as a spare battery to enable you to meet the needs of your business, improve productivity and efficiency.
If this is of interest, and you would like to get more information about rentals, please get in touch with the team